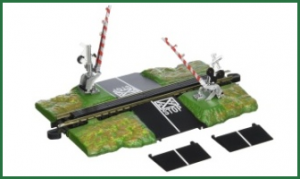 Bring your model railroad to life with an unlimited number of model train accessories. With the right tools, parts, and supplies you can create a realistic railroad that's only limited by your imagination.
Whether you're a beginner or experienced hobbyist, this is what model railroading is all about! You're creating something unique where you can run your trains in a realistic environment by adding mountains, tunnels, bridges, people, vehicles and scenery to your layout.
For the beginner, there's plenty of prebuilt structures, roads, and landscape items to choose from. Or, if you already have some experience there's model train accessories available in kits that you can assemble and customize. And, finally, for the experts there's materials for building everything from scratch!
Follow the links below to find the right supplies in all the popular scales for building your own unique railroad. Below the links you'll also find some tips and ideas for selecting the tools and supplies for adding realism to your model train layout.
HO Scale Accessories: On this page you'll find a great selection of HO scale accessories of all types to build a great looking and realistic operating model railroad.
G Scale Accessories: If you're running an outdoor Garden Railroad, or a large scale indoor train, then check out this page for adding realism to your G scale layout.
N Scale Accessories: We have a large number of great N scale products from the top manufacturers to help build you a highly detailed N scale themed layout.
O Scale Accessories: Browse our listings of traditional O scale accessories for an affordable selection of buildings, scenery, vehicles and more! We're sure you'll find just the parts, supplies and kits you've been looking for.
S Scale Accessories: Here's where you can view our current listings of quality S scale supplies to add a creative touch to any type of S scale railroad.
Z Scale Accessories: Enhance that large, detailed railroad with Z scale accessories found on this page. If you're short on space you'll find plenty of Z scale parts & accessories for your miniature model railroad.
Your Model Railroad Theme
One of the first decisions you'll need to make is what your model railroad is all about. Your theme will determine what type of railroad you want to run.
Are you going to run a steam-era freight train, a modern freight train, or a passenger train from either era? If you currently have a train set then your theme has probably already been determined.
When selecting a theme you'll want to take into consideration the time period you want to model as well as your train's purpose and location.
Does your train haul freight from one location to another or is it carrying passengers from one city to the next? Will your layout be centered around a city, a small town, or a rural area with farm land, streams, mountains and tunnels?
No matter which theme you choose, there's an abundant selection of products to choose from to build whatever themed railroad you can imagine.
Choosing Model Train Accessories
Probably the most fun, creative, and exciting part of model railroading is using your skills and imagination to build a life-like setting for your trains.
As you gain more experience, you will learn many new skills like carpentry and electrical systems in addition to using your artistic talents for creating landscapes and scenery, buildings, mountains, tunnels and more.
But where do you start? What tools or supplies will you need? What skills are required?
We know you have questions. That's why we've put together this brief introduction to selecting and using the different types of products available for building a realistic model railroad.
Scenery
Scenery is what gives your model railroad its "personality". It's the largest category of model train supplies because it covers nearly all of the items needed to add realism to your railroad.
Whether you're building mountains or farm fields, coal mines or fishing villages, realistic scenery is available and affordable in all of the popular scales.
A colorful and natural looking landscape can be created with ground cover, grass, sand, trees, and rocks. Buildings, vehicles, paved roads, railroad crossings, lighting and more are available prebuilt or in kits.
With bridges, tunnels, and mountains you can create stunning layouts to show off your creative abilities.
Detailing
Here's where your imagination and artistic abilities can really bring your railroad to life.
By adding your own personal touch to your trains and accessories, detailing is how you can customize the look and feel of every part of your layout.
One of the most popular techniques is called "weathering". You can take prebuilt items and make them look aged as they would in a real-life setting.
Another common way to customize your trains and accessories is through painting and airbrushing. Locomotives, freight cars, and passenger cars can all be modified to replicate real-world railroads with paint, decals and lighting.
The same can be done with buildings whether it's a house, hotel, garage, fire station or train station platform. Customizing every part of your layout will give it that realistic and one-of-a-kind look that you created yourself.
Tools
Like most hobbies, you're probably going to need some basic tools in order to customize scenery and accessories. Some of the most common tools you might need include screw drivers, pliers, wire cutters, and maybe a soldering iron.
Your benchwork will require tools such as a hammer, levels, drill, drill bits, jig saw, circular saw, and clamps.
To properly lay your track on your benchwork you'll need a straight edge, hobby knife set such as Exacto Knife, needle-nose pliers, rail cutters and a tack hammer.
Adding electrical components to your layout will require wire cutters, a voltmeter and a soldering iron for starters.
Modeling, which covers scenery, detailing, and backgrounds needs a miniature screwdriver set, airbrush kit, small paint brushes, glues, paints, plaster and rock molds in addition to the tools already mentioned above.
And don't forget foam sheets, paving tape and color kits.