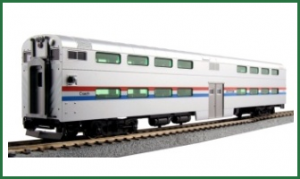 Adding model train passenger cars to your model railroad is a great way to show how trains were an important part of America's past as well as their importance to modern high-speed rail worldwide.
Available in a variety of styles covering every time period of railroad history, you'll find ready-built passenger cars as well as kits ready for you to assemble and customize.
We have a great selection of model train passenger cars in all the popular scales including sleepers, trolleys and commuter cars in addition to dome/observation cars, dining cars, mail and baggage cars and coaches.
Choose your scale from the list below to see current listings of quality model train passenger cars for sale. You'll find a variety of styles, sizes and time periods from all the top manufacturers at discount prices.
HO Scale Passenger Cars: Here you'll find a great selection of quality HO scale passenger cars representing just about every time period to compliment your model train layout.
G Scale Passenger Cars: Built for the large-scale model railroader, we list several options for adding G Scale passenger cars to your indoor or outdoor Garden Railroad.
N Scale Passenger Cars: If your space is somewhat limited, our listings of new and used N Scale passenger cars will help you build that large, detailed layout or enhance to model railroads with limited available space.
O Scale Passenger Cars: The traditional O-Gauge railroad provides an opportunity for you to add a great selection of steam-era passenger cars to your train sets. We have O Scale passenger cars for beginners, serious hobbyists and collectors alike.
S Scale Passenger Cars: Here you'll find a variety of options to choose from if you're looking for nicely detailed passenger cars from the somewhat rare S-Scale. Smaller than O Gauge but larger than HO, these passenger cars offer nice detail for smaller spaces.
Z Scale Passenger Cars: If you're really short of layout space then Z Scale offers one of the best choices for building a nice model railroad. Checkout our current listings of Z Scale passenger cars here.
Passenger Train Model Railroads
Modeling a passenger train isn't as popular as building a model freight train layout. However, that doesn't mean your options are as limited as you may think.
You will find all the usual equipment available for a passenger train layout as you would a model freight train. There's a variety of locomotives and rolling stock available in all the popular scales covering every era from steam to modern day high-speed commuter rail systems.
A few reasons why passenger trains are less popular include the fact that about 1971 nearly all passenger lines in real life were replaced by Amtrak trains. So, your modern day passenger train layout will most likely look like current Amtrak commuter trains operating on the east coast of the United States.
Or, if you are looking to model other high-speed rail systems you most likely will be building layouts resembling cities and rail systems of Europe or Asia.
One other main limitation to a passenger rail system is that passenger cars are typically very long compared to freight cars. Real-life passenger cars can be 85′ in length. Model train passenger cars of any scale will therefore require larger than normal operating space in most layouts and need larger radius curves for the track to handle the larger cars.
For time periods prior to the 1970's you'll have more options for combining a passenger train with a freight train on your model railroad. And, if your plans are for a steam-era railroad, then you will have the option of combining passenger cars with freight cars on the same train.
So, don't be afraid to build your model railroad as a passenger train system as there are plenty of locomotives, rolling stock, buildings, scenery and accessories to choose from.
Types of Model Train Passenger Cars
Coach
Coach cars are one of the most common types of passenger cars. They typically consist of a center aisle with 2 seats on each side of the aisle. This is similar to the familiar seating arrangement of passenger planes. Above the seats are shelves or baggage compartments for storing of passenger carry-on baggage. Again, a similar and familiar arrangement to that of most airlines.
Dining Car
The dining car, or diner, is just what it sounds like. Typically found on the long distance trains, the dining car is available for serving meals to passengers. You will find tables and chairs arranged in the car to resemble a restaurant. These cars usually have a galley where meals are prepared and are serviced by a waitstaff.
Lounge Car
Often included with a dining car, lounge cars include a bar and casual seating for passengers. As is the case with dining cars, a lounge car is typically found on the longer trains servicing cross-country routes and commuter corridors of the east coast. As a place for socializing, lounge cars may even include music or other entertainment.
Observation Car
Typically found at the end of a passenger train, observation cars might include a combination of features from a coach, diner, and/or lounge car. The back of the car usually had larger windows for viewing the scenery. Trains from the 1800's often included observation cars with a covered "porch" at the back of the car.
Sleeper Car
Sleeper cars, also known as "sleepers" or "Pullman cars", provide areas for passengers to sleep on overnight routes. The sleeping compartments of these cars range from coach seating that converts to semi-private sleeping berths to individual bedroom compartments. Bedroom compartments can range from a small compartment where seating converts to beds and back again to compartments resembling a small apartment with beds, seating and bath facilities.
Specialized Passenger Cars
Combine Car
A combine car is a specialized car that "combines" elements of two or more cars. A typical example would be a combination coach and baggage car combined into one car. These cars are often found on smaller railroads or short-run railroads where full-sized single use cars would not be cost effective.
Dome car
As the name suggests, dome cars were multi-purpose cars typically having two levels. The lower level might include elements of several cars such as a lounge, coach seating, or even a small dining area. Stairs allowed passengers access to a "dome" area with large windows allowing views of the outside scenery in all directions.
Head-end Equipment Cars
Baggage Car
A baggage car was often included in passenger trains to carry passenger and other cargo. Some baggage cars had large doors which allowed the train to transport various types of freight or other items in addition to passenger baggage. These cars could vary in design with some being re-purposed box cars to cars designed to look like the other passenger cars of the train.
Mail Car
The mail car (or postal car) is similar to baggage cars. These "traveling post offices" were secured cars manned by armed postal service employees. They were often placed on the train behind the locomotives but ahead of the baggage cars to offer additional separation between the mail car and passengers.
Self-Powered Cars
Trolleys and Cable Cars
You can add a unique feature to your model railroad by including trolleys or cable cars in your layout. Depending on the time frame or type of layout you build, trolleys and cable cars would be a great addition to a small town or cityscape. These cars are often seen as alternatives to buses, taxis, or other public transportation in cities and towns around the world.
Similar to the trolleys and cable cars would be the inclusion of subway and/or elevated trains found in large cities as public transportation for commuters.
You can find each of these types of passenger cars available from several manufacturers and made of metal, epoxy, wood or brass, etc. in all the popular scales.