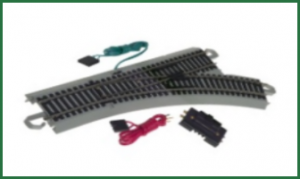 So, you've spent hours, or maybe even days, planning the layout for your model railroad. You have decided on a scale. You've chosen a time period to model. Your benchwork is complete. Finally, you're ready to start laying track.
Properly laid quality track can mean the difference between a long lasting, smooth operating, model railroad and a poor running train full of frustration.
No matter which scale you're modeling, make sure you have enough track, including curves, turnouts, crossings, feeders and rerailers for the layout you've designed.
Whether you're just starting from scratch, or looking for replacement track, we have assembled an extensive listing of all types of track in all the popular gauges at discount pricing from a variety of vendors.
HO Scale Track: On this page you can browse our great selection of HO scale track and accessories of all types for building a smooth operating model railroad.
G Scale Track: If you're looking to build an indoor or outdoor Garden Railroad then check out this page where you'll find plenty of G Scale Track and accessories to choose from.
N Scale Track: Check out our listings of new and used N Scale track on this page. We have a number of great products from the top manufacturers to help build that detailed N Scale layout.
O Scale Track: Our selection of traditional O-Gauge track will help you build trouble-free and long lasting O Scale model railroad. We're sure you'll find just the track or track kits you've been looking for.
S Scale Track: We have a variety of S Scale Track options to choose from on this page. Browse our current listings to buy quality S Scale Track to run your S Scale railroad.
Z Scale Track: Build a massive, detailed railroad with Z Scale Track found on this page. If you're really short of layout space then our selection of Z Scale Track is just what you need for a great miniature model railroad.
Model Railroad Track Basics
The key to a stable and smooth running railroad is taking the time to select the right track and properly installing it. But first, we've put together this brief tutorial on the basics of model train track.
Individual track pieces typically fall into one of six main types. There's straight track, curves, flex track, crossing tracks, turnouts (switches), and specialized function tracks. Each type has a specific use within your layout.
The six main categories of track may, or may not, be available in your chosen scale/gauge depending on the brand or type of track you're looking for. For example, you may have little trouble finding all the different track categories in "standard" track format but might not find them in each gauge if you're using track with integrated roadbeds. (See below for the difference between these two types of track.
Let's get started with a brief introduction to each of the different categories of track.
Types of Model Train Track
Straight Track
Pretty self-explanatory, straight track is just what its name implies. Sections of straight track can be found in several different lengths in every scale from a variety of manufacturers. Straight track is used to extend the length of your layout or create "straightaways" where your train can run faster than it can around curves.
Curves
Curved track is found in various lengths depending on scale, radius and the degrees of arc. These measurements will define whether you have a long and wide curve or a short and tight curve. If you're running a passenger train on your railroad you'll want to be sure to select a wider and longer curve to accommodate passenger cars which are typically longer than freight or other rail cars.
If you're running two or more tracks alongside each other you'll want track with the same degree of arc but each with a different radius so one fits next to the other.
Flex Track
Flexible track is track that can bend to form custom curves. Typically found in 30 inch lengths, the track is cut to whatever size you need when making your curves. You're no longer limited to the shapes and sizes of normal curved track.
If your model railroad layout includes ponds, lakes, mountains, buildings or other obstacles, flex track allows you to create curves and bends around these "natural" features. Make sure your train cars can properly navigate any custom curves you make before mounting the track permanently in place.
Crossings
Crossings are individual pieces of track shaped like the letter "X" or like a plus (+) sign. They create an intersection where one track crosses over another. This is just like a typical intersection where two streets cross each other.
The crossing angle can vary from 15 degrees to 90 degrees allowing for a variety of different intersections if needed for your layout. Not all brands carry all angles of crossings in every scale.
Turnouts
Turnouts are also known as switches. They're a section of track used to "switch" your train from one track to another. There are left turnouts and right turnouts available. The image at the top of this page is an example of a turnout.
Function Tracks
Function tracks are specialized tracks that perform a specific "function" on your railroad. The two most common types of function track are feeders and rerailers.
Feeder tracks are used to connect your power source to your train's layout. It's how your train gets its power to operate.
Rerailers are a type of track that can be placed in multiple locations around your layout. They often look like a street crossing over the tracks and are used for the purpose of forcing any wheels of your rolling stock back onto the rails should any of them come off.
Another type of function track is a decoupler. Its function is to separate, or decouple, one or more cars from the train.
Standard Track vs Integrated Roadbed Track
Standard track is the familiar basic track with rails connected together with plastic or other type of railroad ties. The track is attached to your benchwork with nails or glue with foam or cork used as the roadbed.
Integrated roadbed track is a type of track that has the roadbed built in. It's easier to work with than standard track which is why it's often found in toy train sets and most starter train sets.
If your goal is to build a realistic model railroad with life-like detail that you create over time then standard track should be your first option.
However, if you have already started building with a train set that has integrated roadbed track there's no need to start all over again. Nearly all tracks made today share the same rail joiners. Therefore, you can combine standard track with integrated roadbed track and even with flexible track. With some modifications, your railroad can look like it was created with all the same type of track.