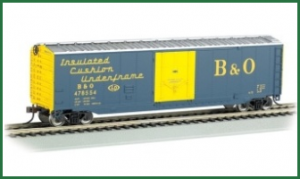 Model train freight cars are a great way to add rolling stock to your scale model railroad. Available in a variety of styles, you can find ready-built freight cars as well as kits that you can assemble and customize.
We have a great selection of rolling stock including flat cars, wood/steel box cars, reefers, refrigerator cars, flat cars and hoppers, gondolas, and tank cars.
Choose your scale below to see our current listings of model train freight cars for sale. You'll find a variety of styles from the top manufacturers at discount prices.
HO Scale Freight Cars:  The most popular model railroad scale by far is HO Scale. Here you'll find quality freight cars from just about every time period to compliment your layout.
G Scale Freight Cars:  Built for the large-scale model railroader, we offer a great selection of G Scale freight cars to build that indoor or outdoor Garden Railroad.
N Scale Freight Cars:  Not as popular as other scales, our selection of N Scale freight cars will help you grow a large, detailed layout or make a great addition to model railroads with limited available space.
O Scale Freight Cars:  The traditional O-Gauge model railroads have been a favorite of young and old alike for generations. We have O-Guage freight cars for beginners, serious hobbyists and collectors.
S Scale Freight Cars:  You'll find detailed rolling stock from our catalog of somewhat rare S-Scale freight cars. Smaller than traditional O-Guage but larger than HO Scale, these freight cars offer nice detail for smaller spaces.
Z Scale Freight Cars:  If your layout space is truly limited, Z Scale offers one of the best choices for building a nice model railroad. Checkout our current listings of Z Scale freight cars here.
Choosing Model Train Freight Cars
Freight cars for your model railroad can be found representing all the standard and specialized types of railcars seen in real-life railroads. You'll find hoppers, flat cars, tank cars, gondolas, wood or steel box cars and refrigerated freight cars.
Model train freight cars are made by all the top manufacturers like KATO, Athearn, Bachmann, Walthers, Atlas, and many others in nearly every popular scale or gauge.
Your first option includes ready-made freight cars perfect for beginners and others without the knowledge, skill, or desire to build their rolling stock from scratch. There's a good selection of quality, ready-to-run cars available from most of the top manufacturers.
Another option is selecting an easy-to-assemble kit. Or, for the advanced hobbyist, there are craftsman level kits allowing customization of nearly every detail.
Whether you're building a modern diesel era layout or a turn-of-the-century steam era layout you'll find a variety of freight cars available to enhance the looks and functionality of your model railroad.
Freight Car Types
Boxcars
Boxcars are common railcars found on most freight trains. Available in most scales, they represent real-life boxcars that typically range from 40′ to 90′ in length and have been in use since the steam era.
You'll find boxcar varieties used for hauling cattle, refrigerated goods and an almost unlimited number of consumer and industrial goods of all sizes.
Whether you select a replica wood or steel boxcar, these fully enclosed cars make great additions to your freight train layouts.
Flatcars
If your railroad includes transporting heavy industrial equipment such as trucks and autos, lumber, large trailers or overseas shipping containers then a flatcar is what does the job! These cars come in a variety of lengths and types to carry long or large freight.
One type is the Wellcar used to carry shipping containers often received from overseas. These flatcars have a recessed area allowing for the stacking of shipping containers.
A Centerbeam is a specialized flatcar often used to carry finished lumber or building supplies. These cars allow for transporting bundles of lumber, building materials, or even auto and truck frames.
Another specialized flatcar is the Autorack. As its name suggests, autoracks carry newly manufactured automobiles to all parts of the U.S. for distribution to dealerships.
Gondola Cars
These popular railcars have enclosed sides and open tops. You will often see gondolas used for hauling wood chips, scrap metal, steel or other cargo.
Several model train manufacturers make highly detailed pipes, tubes, wires, shipping containers and other scale model products that you can use to fill your flat cars, gondola cars, and hopper cars.
Hopper Cars
Hopper cars and covered hopper cars are another popular addition to many model railroads.
Available in most scales, these cars are capable of hauling many types of bulk cargo such as grains, coal, or ore. Similar to a gondola car, hoppers have slanted bottoms with "chutes" that are used for unloading their cargo.
As its name suggests, covered hoppers are hopper cars that are covered to protect cargo from the weather or to prevent lighter weight cargo from blowing out of the car as it travels the rails.
Tank Cars
These, often black in color, tube shaped cars are used to transport a variety of liquids and gases from oil, propane, ammonia, fertilizers or other chemicals.
Tank cars are another familiar type of freight car that is found in most scales and make perfect additions to a typical freight train layout.
Building Your Freight Train
If you're new to the hobby, take advantage of the abundant selection of ready-to-run model train freight cars available in nearly all the most popular scales and gauges.
If you have a little more experience or want to learn to customize your freight cars the next step to take would be selecting cars from the available easy-to-assemble kits.
And, for the advanced railroader there's plenty of detailed craftsman kits for building high-quality custom railcars.
No matter which option you choose you can always upgrade your trains with higher quality wheel sets, couplers, and learning the techniques of weathering your stock for a more realistic look to your railroad.