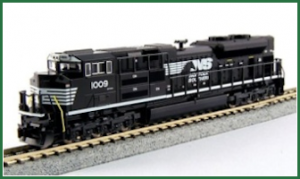 A good locomotive is the backbone of any model railroad layout where quality products can save you hours of frustration and bring years of continuous enjoyment to this amazing hobby!
We have a huge selection of the best-selling diesel, electric, gas turbine, steam and sound-equipped model train locomotives in the most popular scales at discount prices from all of the major manufacturers here at ModelTrainBargains.com.
Choose your scale below to browse our current listings of model train locomotives for sale.
HO Scale Locomotives: The popular HO Scale locomotive is perfect for all ages and a top choice for almost any available layout space.
N Scale Locomotives: An N Scale locomotive is a great choice for small spaces or large, detailed layouts.
G Scale Locomotives: These durable large-scale locomotives are perfect for operating an indoor or outdoor Garden Railroad.
O Scale Locomotives: Traditional O-Gauge locomotives are well-known among model train enthusiasts while collectors and serious hobbyists look to more detailed O-Scale Locomotives with high-end electronics.
S Scale Locomotives: Smaller than O-Gauge and larger than HO Scale, the somewhat rare S Scale locomotive is a good choice for great detail without taking up a lot of space.
Z Scale Locomotives: As one of the smallest commercially available model trains, Z Scale Locomotives are perfect for building model railroads in small spaces.
Popular Locomotive Types
Steam Locomotives
The Steam Era is a very popular period among model railroaders. Steam engines powered America's rails for 130 years. With a classic steam engine, your train layout can be modeled to look like the mid-1800's Civil War period or the great migration west during the late 1800's. Regardless of the theme you choose, there are many classic steam engines available from "The General" American 4-4-0, Consolidation 2-8-0, Atlantic 4-4-2, and the GS2 Class 4-8-4 "Daylight Limited".
Diesel Locomotives
If your interests are more towards the modern era then a Diesel Locomotive may be just what you're looking for. First appearing in the 1930's, diesel locomotives operated along side steamers on many railroads until the mid-1950's. Diesel locomotives are still in use today carrying a variety of freight and passengers across the U.S.
Electric Locomotives
For over a century, electric trains of all type have operated around the globe! From big-city "trolleys" to passenger trains in Europe to the high-speed "Bullet Trains" of Asia, you'll have plenty of options to choose from.
Choosing Your Locomotive
Your first decision when selecting an engine to power your model railroad would typically be scale. But, since you're already here on this page there's a good chance you've already made that choice based on your available space and the type of train you want to operate.
Your next choice would be the type of railroad you want to run. Maybe you're a history buff and are mainly interested in trains from the 1800's (Steam Locomotives). Or, maybe you want to build a replica of a nearby small town as it looked in the 1950's (Diesel Locomotives). Or, you love the sleek and modern trains of today carrying passengers along the East Coast, Europe, or Asia (Electric Locomotives).
No matter which you choose, always seek to find the best quality equipment you can afford. Nothing is more frustrating than buying inferior products only to see them not run smoothly, or worse yet, not run at all on your layout.
A common source of power used in locomotives is the can motor. They are smooth-running motors that draw low electrical current compared to other motors. They typically have a completely enclosed ring magnet surrounding the armature.
Older motors are open-frame with the magnet mounted at one end with pieces extending to each side of a visible armature. Although these motors run quite well, they don't start as smoothly and can draw 2 to 3 times more current than a can motor.
Model train locomotives are available in a variety of plastic or metal models. You will find them as either ready-to-run models or as kits in all the popular scales.
If your choice is a steam engine make sure you have large enough curves on your track. Steam locomotives typically have more wheels than other engines and are often longer. Tight curves will make these more difficult to operate and can cause derailments.
So, whether you just need a ready-to-run engine or want to challenge yourself with a kit, we're sure you'll find just what you're looking for by browsing our listings of current locomotives.