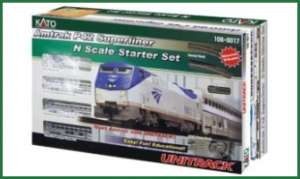 Model Railroading is among the most-loved classic hobbies in the world! And there's no better way to get started than with complete, ready-to-run train sets.
Are you a serious beginner looking for that first iconic Lionel train set? Or, are you a parent looking for that first toy train set for your toddler? Either way, train sets are one of the easiest and affordable ways to begin a lifetime passion of fun and creativity through model railroading.
Whether you're looking for model trains or toy trains you'll find a large variety of themes and brands to choose from. Our goal at Model Train Bargains is to help you find that perfect train set for getting started in this great hobby!
Model Train Sets: These are the ready-to-run train sets that many beginning model railroaders start with. You'll find them in all the popular scales from top manufacturers like Lionel, Bachmann, Athearn, LGB and more!
Toy Train Sets: Toy train sets are always a fun and popular gift for toddlers and youngsters alike! Start them off right with fun sets from Thomas & Friends, WolVol, ObriumToys, KidKraft and many other top brands.
Choosing A Train Set
Train sets typically come packages with a locomotive, a few freight or passenger cars, track to make a circle or oval and a power pack with wiring to run your train. Larger sets might include a variety of accessories like a bridge, tunnel, vehicles, trees or even a small building or two.
When choosing your set you should first consider who the set is for. Are you someone interested in checking out the model railroading hobby and want a starter set to see if you might want to seriously pursue your interests? Are you looking to purchase a gift for someone else showing interest in model trains? Or, maybe you're looking for a fun toy for a toddler or other young child.
Another choice to make is determining what scale to choose for your new layout. Children under 8 yrs old would have an easier time handling larger size trains such as S Scale, O Gauge, and other large scales. For children over 8 yrs and adults, smaller scales like Z, N, and HO are great options for building more complex and detailed layouts. And, for infants and toddlers, there's a large variety of toy trains available to choose from.
One important consideration when determining which scale to select is your available space. Do you have a single room you can devote to your railroad? Maybe you have ample space in a basement where you can built elaborate layouts. With smaller scales like HO, detailed model railroads can be built on standard 4′ x 8′ sheets of plywood.
Types of Train Sets
You'll find a large variety of train sets to choose from in all categories of scales from steam trains of the 1800's to the modern high-speed trains of Europe and Asia.
No matter which theme you decide on there's plenty of options to choose from including the popular Lionel Polar Express, Pennsylvania Flyer and even a Harry Potter Hogworts Express set.
Smaller scales include starter sets from Bachmann such as the Pacific Flyer, Durango and Silverton or the the Jingle Bell Express!
When shopping for kids you will find a huge selection of toy train sets with tunnels, bridges, and other fun accessories from Fisher-Price, WolVol, KidKraft, VTech and others.
Getting Started
One of the best ways to get started with model railroading is with a train set. Although most train sets do not usually include high-end equipment, you get everything you need to get started in one complete set to get you up and running quickly!
So, consider whether you're interested in sets with a steam locomotive or an electric or diesel locomotive. Will your railroad be mostly freight trains or passenger trains? Will you model your railroad after a local line that runs in your area such as the Canadian Pacific Line, Norfolk Southern, or the Chicago & Northwestern passenger line from the 1970's?
Once you've determined the amount of space you have available you're ready to choose a scale, a theme, and it's corresponding train set.
To browse a great selection of model train sets and toy train sets just click one of the links above to see the latest in model railroading from all the top brands!