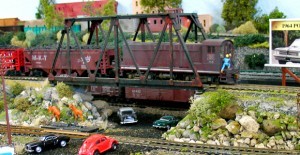 DISCLOSURE: As an Amazon Associate We earn from qualifying purchases. This post contains affiliate links. If you purchase anything through one of these links we will earn a commission.
There's a reason why model railroading is often called "The Greatest Hobby on Earth!" How many other past-times do you know that can begin with a simple train set and end up being a lifetime passion? You might have received a starter train set as a gift for your birthday or other holiday. Maybe you saw a friend or relative with a massive train layout and decided you wanted one yourself. No matter the reason, there are a few things you should think about before building your first model railroad.
Available Space
The first obstacle you need to overcome is available space. Where are you going to build your railroad? Are you limited to a table top in a small room or do you have an entire family room, den, basement, garage, or back yard available? If you start out small is there sufficient space for you to expand? The amount of space will determine the best "scale" of model train you should choose.
Scale
The proper scale for your model train layout is directly related to the amount of space you have available. You wouldn't want to select G Scale for an indoor table top train set. G Scale trains are large and typically built outdoors. A model train's scale is in direct proportion to it's life-size counterpart. The most popular size is HO Scale. At 1:87 meaning HO trains are 1/87 the size of a real train.
Another consideration with choosing the proper scale is the amount of available engines, rolling stock, buildings, scenery, parts and accessories. When deciding on the scale best for you, make sure there's an ample supply of everything you think you might want to include in your layout. For more information on scale watch the video below.
Please accept YouTube cookies to play this video. By accepting you will be accessing content from YouTube, a service provided by an external third party.
If you accept this notice, your choice will be saved and the page will refresh.
Layout
Now that you've determined how much space you have to build your model railroad, and chosen the right scale, it's time to think about your train's layout. It's a lot easier to plan this step in advance than it is to rip up tracks once they're in place.
The easiest and cheapest way is to simply draw out your plan on a sheet of paper. However, excellent model railroad layouts can be found in magazines, on-line, or in several software programs. Many pre-designed layouts come with photos or ilustrations of railroads already built from them. Check out the Books & Magazines section of this for more ideas.
Your Model Railroad
Now it's time to decide on what your model railroad will look like. Here's where your likes, dislikes, and imagination come into play. Are you interested in building a railway from the past? Maybe you're interested in steam locomotives delivering passengers to the Wild West in the 1860's or in the modern high-speed passenger train of Europe or Asia.
Your model railroad can be built to reflect a moment in time, a town you've visited, or even your own city. It can be as real and life-like as you can imagine. Maybe you're interested in the history of a particular railroad such as the Soo Line, AmTrak, or the old Milwaukee Road.
Hobby shops can be a great source of information and a place to find good starter train sets. However, hobby stores are limited in space and can't possibly carry all of the things you need to build your railroad. So, no matter what scale you choose, what type of layout you decide on, or how you want your model railroad to look, we're sure you'll find everything you need in our store. Just follow the links on the left or use our advanced search function above.
Putting it all Together
Everything you need for getting started quickly and easily can be found in Model Trains For Beginners (Complete Model Railroad How-To System). This complete System Includes Videos, Pictures, Illustrations, Glossary, Resources, Step-by-step Guides & More!